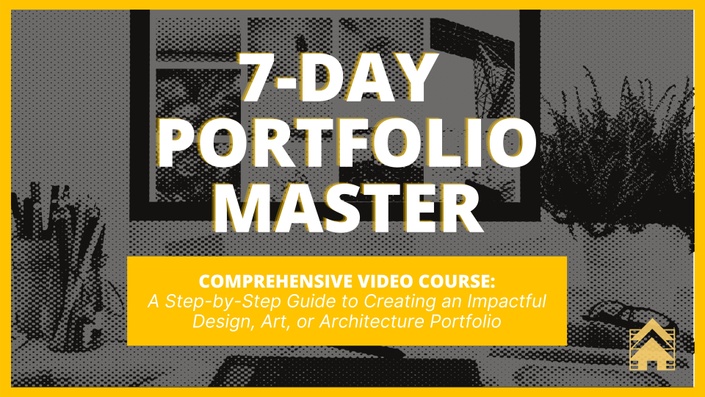 7-Day Portfolio Master
A Step-by-Step Guide to Creating an Impactful Design, Art, or Architecture Portfolio in 7-Days!
Watch Promo
👉 Do you need to create a Design, Art, or Architecture Portfolio and don't know where to start?

👉 Are you a student or professional and sick of having to guess what your portfolio reviewers want to see?
👉 Want to spend less time creating your portfolio, and say goodbye to those long sleepless nights where you keep staring at your screen with no direction, no motivation, and no plan on how to layout your portfolio?
💪

THEN YOU'RE READY TO BE A 7-DAY PORTFOLIO MASTER

In this 7-part online training seminar and course, I am going to teach you how to complete a design, art, or architecture portfolio in half the amount of time, but with eye-catching strategies that will entice the eyes of a review committee or employer.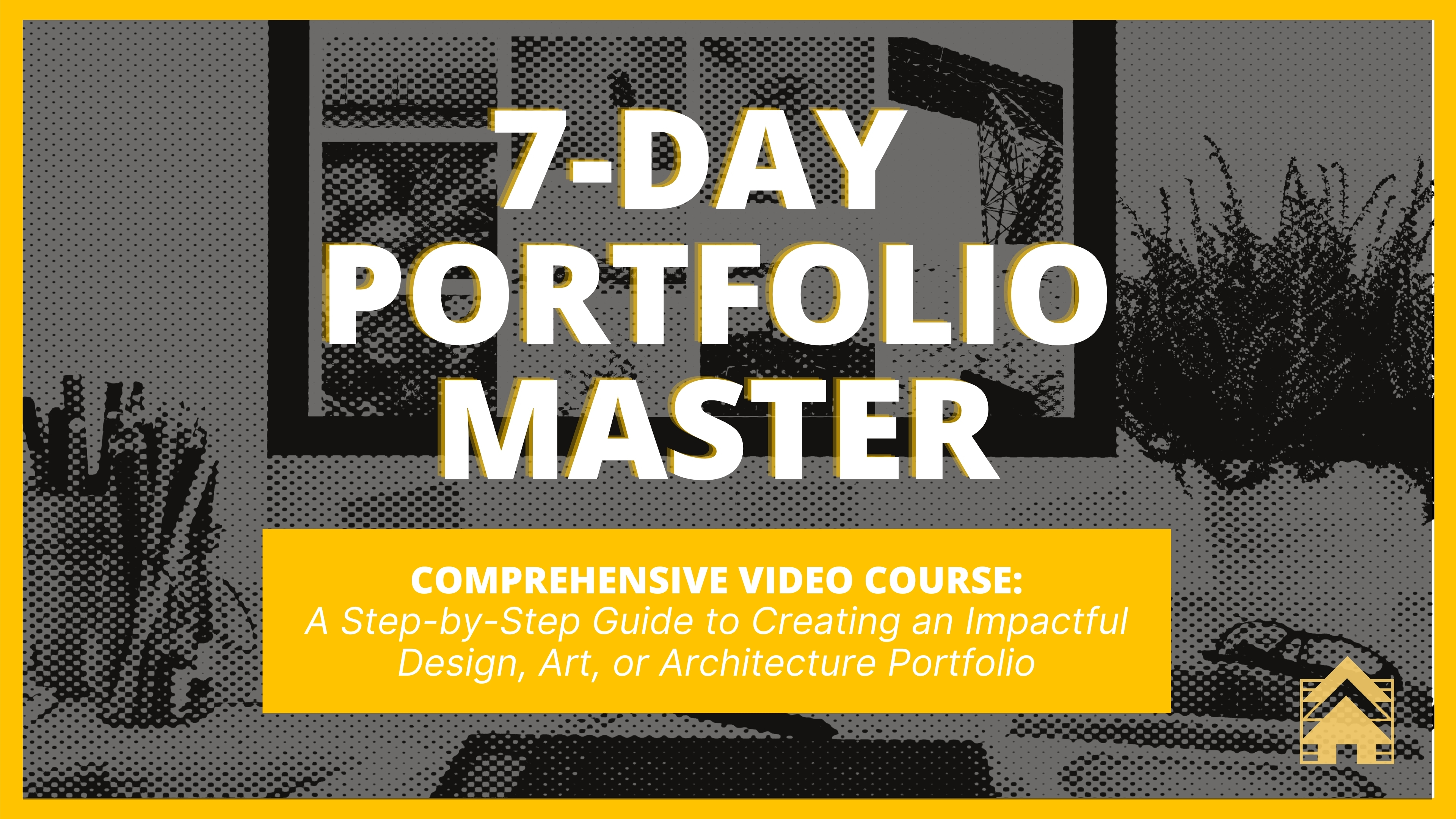 📘 It's all about looking at the details AND the bigger picture.
📘 It's all about storytelling...
📘 It's all about working smarter and not necessarily harder.
📘 It's all about getting more sleep and saying goodbye to those all-nighters, because I've unlocked some time management hacks that will help you as well.
📘 This blueprint works, and we have the testimonials to prove it's impact. Be sure to watch our promo video for one of our many testimonials.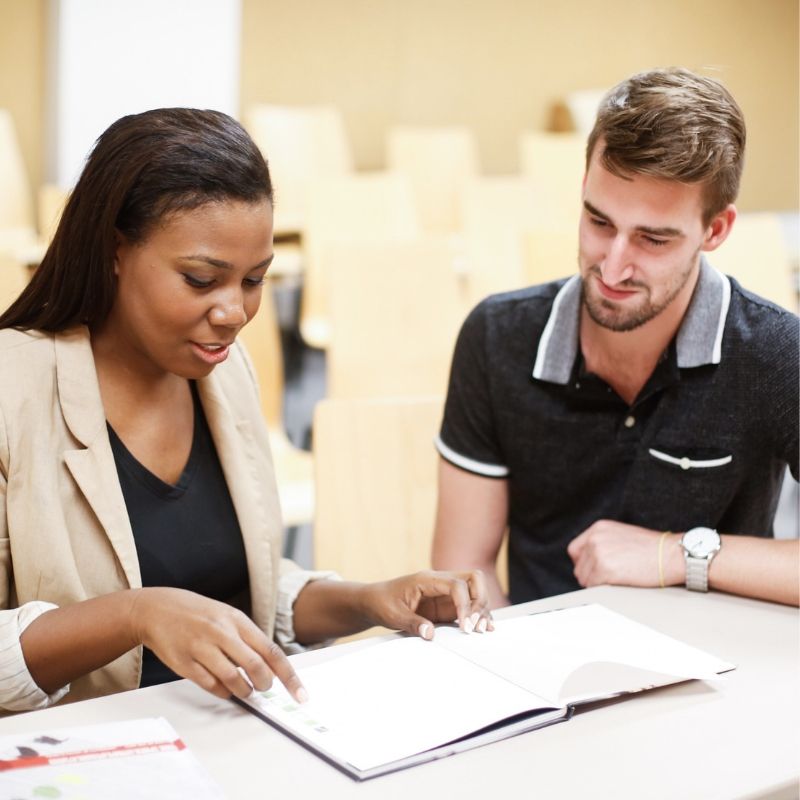 IN THIS PROGRAM YOU WILL LEARN:
✅ How to make a good first visual impression and create a "wow factor" as soon as someone reviews your first project.


✅ Eye-catching and thought-provoking strategies that will have your portfolio reviewer wanting to learn more about you.


✅ My (BPM) "Best Project Method" that helps you decide what to put in, what to put first, put last, and what to completely leave out. This is the secret sauce to creating a 7-Day portfolio and I can't wait to share it with you.
THE LIVE DEMOS WILL COVER:

✅ How to set up your portfolio fast and easy to allow you to #worksmarternotharder.


✅ How to take quality photos of your work (architecture models, sculptures, etc.)


✅ How to edit your photos with my go-to applications to look high quality and eye-catching.


✅ How to brand your portfolio without looking too over the top cliché; and why over branding your portfolio can actually hurt your chances at getting a good impression.


✅ How to layout your page to "speak for you" - even when you're not there to explain it.


✅ How to add text and supplementary features... THE RIGHT WAY.


✅ How to leave a lasting impression and up your chances at getting a call back or admitted.
WHAT YOU GET :

✅ Expert Advice from an array of employers and professionals that review design portfolios.


✅ The access link to the Live Portfolio Course Trainings.


✅ Can't make it to the Live Trainings? No problem! You will also gain access to the video library to re-watch all of the trainings anytime, anywhere.


✅ Access our private Facebook Community to learn and share your ideas/layouts with like-minded individuals from all around the world.
BONUS TRAININGS:

1) 🎁 CONFIDENCE AND MINDSET TRAINING: How to present your work during a job interview or a client pitch.
2) 🎁 RESUME WORKSHOP: How to design a one page resume to increase your chances at getting an interview. I did it in the middle of one of the worst recessions of our time and got into the #1 Architecture and Design firm in the world - Gensler. It works.
*ENROLL TODAY: TRAININGS START ON MAY 14TH 2021!
CLAIM YOUR SPOT TODAY AT OUR LOWEST PRICE.
ENROLLMENT WILL CLOSE AUTOMATICALLY ONCE WE REACH CAPACITY FOR THIS TERM AND/OR MAY 14TH!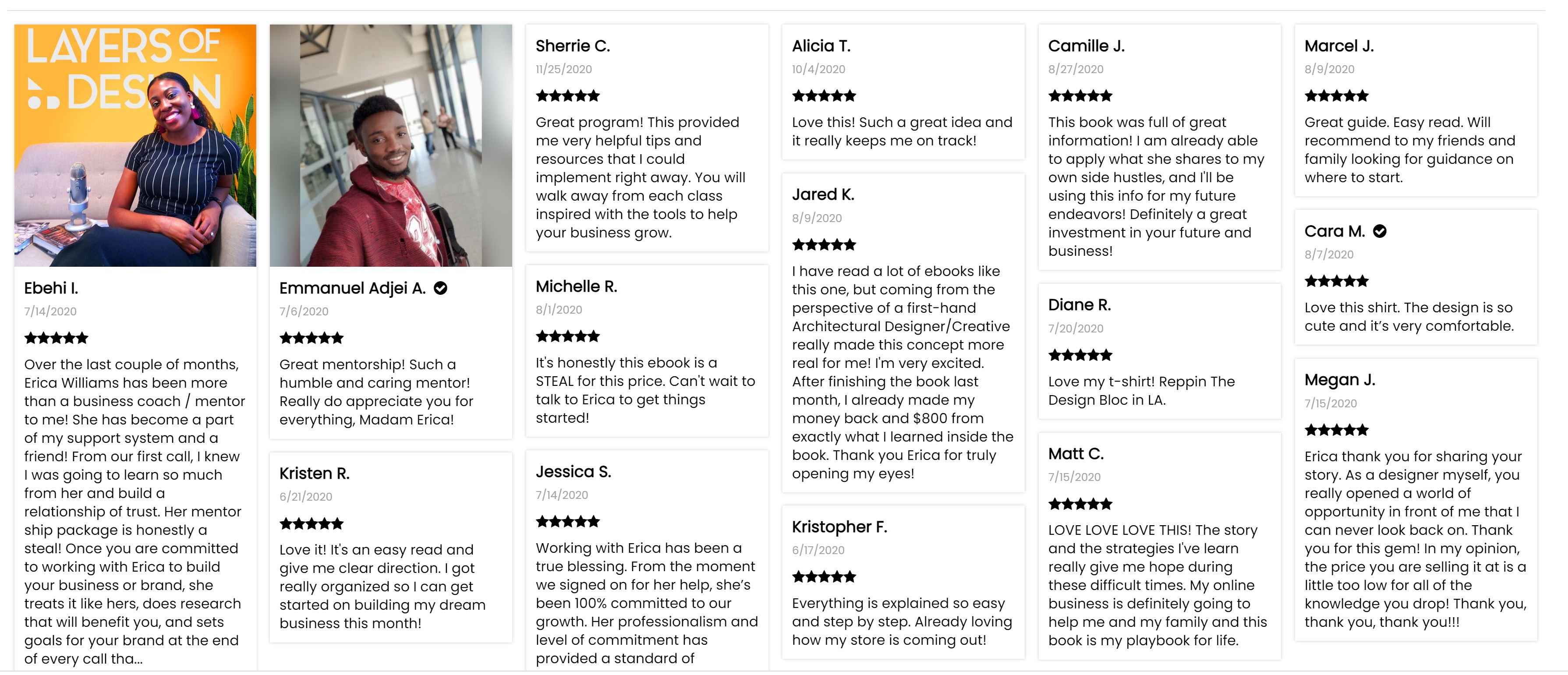 NOTE PLEASE READ BEFORE ORDERING: This course DOES NOT guarantee admissions or acceptance into ANY program or company in which you are submitting your portfolio. We focus on strategies to make it look impactful and organized for reviewers. Results are on a person by person basis. Due to the nature of this live training and our proprietary information that we will share, we can not provide refunds after our trainings have begun.

WE ARE SORRY, BUT NO EXCEPTIONS.
Your Instructor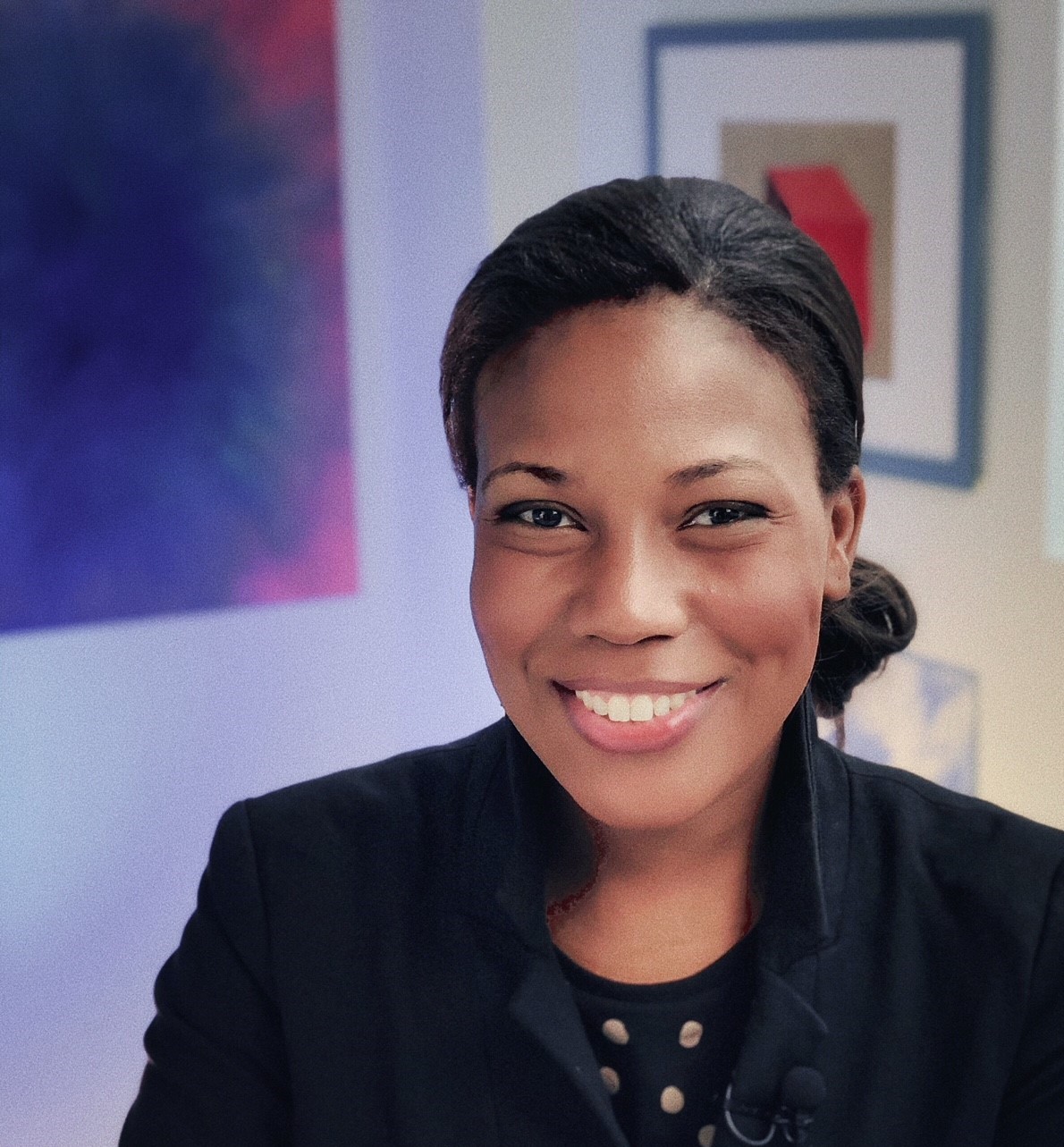 MEET ERICA
Erica Williams has been on all sides of the spectrum of learning how to survive and thrive in the creative industry.
Her design portfolio includes notable projects like: Mercedes Benz-USA Headquarters, Boeing Defense HQ, Capitol One Banking Cafes, First United Methodist Church of Miami, and High-End Starbucks Cafes.
After she struggled for years with being a 'creative introvert' and then overcame her fears of stepping out and speaking up, she soon realized she could provide support to creatives that feel the same way. Her mission now is to share her knowledge to Creative students, professionals, and entrepreneurs around the world. "I can hold all my knowledge and just keep it for myself, but I've learned that I get fulfilled teaching and giving back," says Williams.
Erica believes that there is no such thing as a 'starving artist', just a Creative that does not know how to correctly present their work, create a design portfolio, strategically pitch their concepts to a design jury or employers, run a business, and/or price their creative services to get the clients they deserve."
There's a blueprint to it all, and her community of professionals and herself is excited to share some of it with you inside Design Life Smart!
Course Curriculum
Introduction and Overview
Available in days
days after you enroll
Day #1 - Organizing and Mindset for Success
Available in days
days after you enroll
Day #2 - Your Visual Brand
Available in days
days after you enroll
Frequently Asked Questions
When do we start and finish?
The trainings start on May 14th 2021! Additional course content will be added on and on-going basis so stay tuned for more!
How long do I have access to the course?
How does lifetime access sound? After enrolling, you have unlimited access to this course for as long as you like - across any and all devices you own.
Can I share my course login information with someone else?
Only the person who has purchased this course is allowed to access the account. We have monitors checking daily to ensure people are not sharing accounts. If a user is seen allowing others to use their account for any reason, that person will be removed from the course, Facebook community, and future purchases without hesitation.
What if I miss a Live Training?
No worries. All Live trainings will be added to the course library within the following 2 days. You'll be able to watch and re-watch for as long as you wish!
Why are you teaching this course?
I've been reviewing and teaching portfolio design secrets to help students, consultants, freelancers, and design professionals for years. I created a formula that could be utilized over and over again by countless others, and after sharing it for years behind the scenes, I can confirm this plan is able to be duplicated over and over again. After two years of only focusing on helping Creatives one-on-one, I'm thrilled to be expanding my knowledge and secrets to a larger audience to help more people. Now the 7-Day Portfolio Master course is here!
Everything looks great. How do I sign up!?
Click the 'Enroll in Course' link and we will see you inside the trainings!